Personal Update
It's been more than a week since the super typhoon destroyed many parts of Eastern Visayas. Life remains dire to this very day in the devastated areas. We, in Bohol may have not been affected in terms of life and property but our daily life is still not back to normal without the power back on.
I am actually writing this article in BQ Mall in Tagbilaran City, the province's capital and business center. I am now seated along with many others, waiting for my gadgets to be charged. Praise God, they allowed me to use my laptop while charging for the same fixed amount of Php40 until fully charged. With the help of my prepaid broadband stick, I am, thus, able to connect to the internet. I was also here yesterday, charging 5 cellphones at Php20 each and two laptops. This has been my routine for the past days since the storm put out the entire province's electricity. This is how expensive the use of gadgets and internet has become to us here.
From the day the power lines went down, Bohol is in total blackout except for at most 4 hours of irregular days of limited electricity to power up water pumping stations, hospitals and other most important facilities. Some few residences near those facilities are fortunate to avail of very limited electricity. Our particular barangay in Panglao is among many which have never tasted the luxury of this limited and temporary convenience since Nov. 8. But again, with the most heart-wrenching devastation in the hard hit provinces and cities and municipalities, we are still most fortunate and blessed in spite of these discomforts.
A Word of Warning
I just want to share with the Filipinos and many others following and reading this blog, that I believe that the Lord is not done with the Philippines yet. This is not something that I love to do, nevertheless, I have to share what the Father gave me, to warn my countrymen and call them to seriously consider their ways and return to God. He is very merciful and abounding in love. He does not delight in death but rather that all may come to Him in humble repentance and live.
Do I have any pleasure at all that the wicked should die?" says the Lord God, "and not that he should turn from his ways and live?
For I have no pleasure in the death of one who dies," says the Lord God. "Therefore turn and live!"
The calamities we have experienced since the beginning of the year and which become more frequent lately, are meant to wake us up as a nation, to return to Him, the only one true God who created us.
The Philippines is a very religious country. We pride ourselves of being the only Christian nation in Asia. But sadly, our Christianity is mostly un-Biblical. We are actually a very idolatrous people; and idolatry is as the sins of rebellion and witchcraft.
For rebellion is as the sin of witchcraft,
And stubbornness is as iniquity and idolatry.
Because you have rejected the word of the Lord,
He also has rejected you from being king.
Idolatry is abominable to God. The first and second commandments that the Lord God gave through Moses are about idolatry; having and worshiping other gods beside Him; carving images of any likeness and bowing to them.
And God spoke all these words, saying:
2 "I am the Lord your God, who brought you out of the land of Egypt, out of the house of bondage.
3 "You shall have no other gods before Me.
4 "You shall not make for yourself a carved image—any likeness of anything that is in heaven above, or that is in the earth beneath, or that is in the water under the earth; 5 you shall not bow down to them nor serve them. For I, the Lord your God, am a jealous God, visiting the iniquity of the fathers upon the children to the third and fourth generations of those who hate Me, 6 but showing mercy to thousands, to those who love Me and keep My commandments.
Those with eyes open know and believe that it was no coincidence that many of those destroyed structures during the 7.1 magnitude earthquake here in Bohol and Cebu were churches of idol saints including Mary. Those were high places of idolatry that the Father abhorred. Last year the Lord gave me a dream of Filipinos being deceived by the devil for worshiping Mary which I wrote and published on February this year:
A Message for the Filipinos: They Who Worship Mary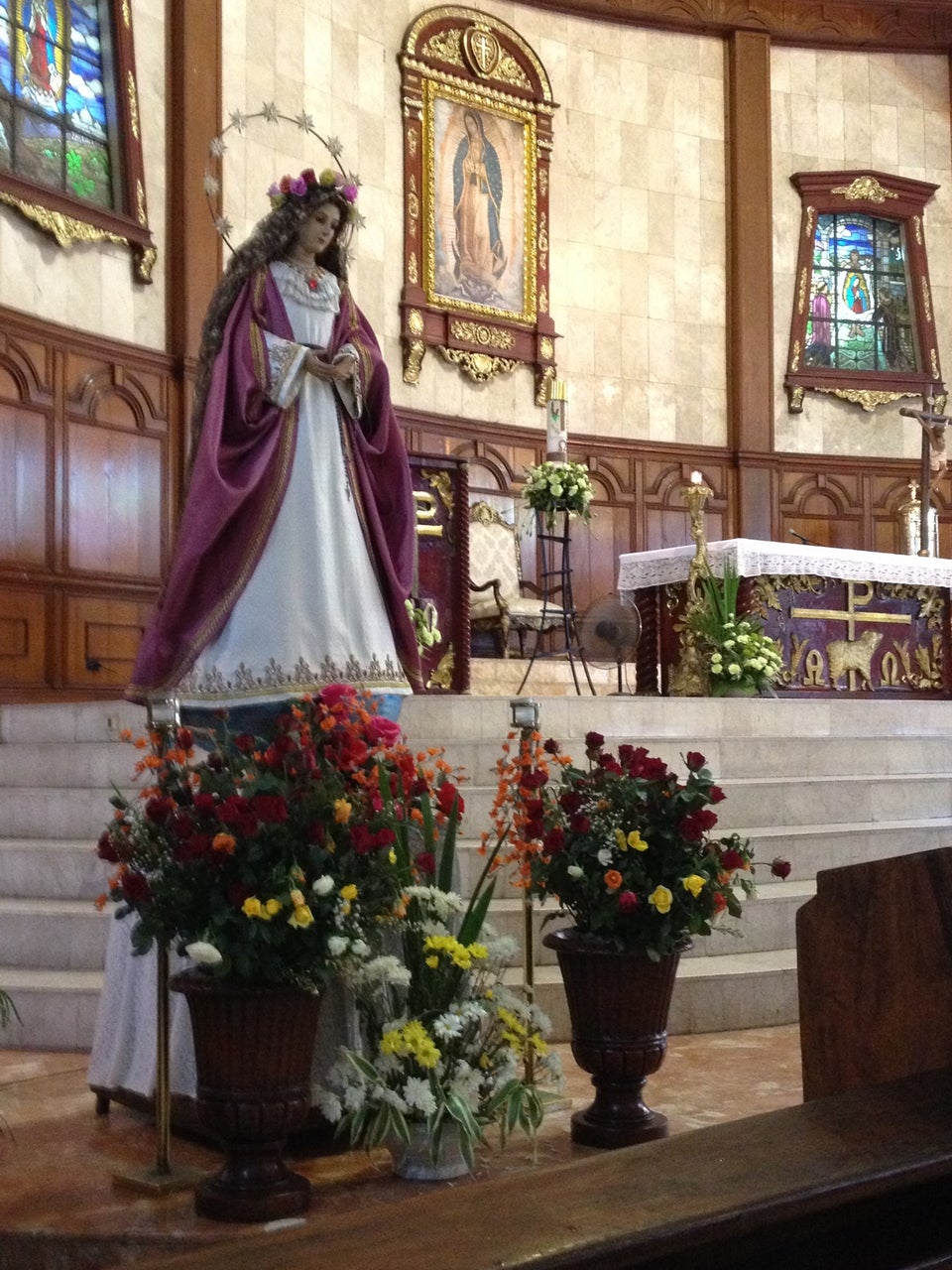 Our Lady of Guadalupe National Shrine
Until we give up our idols, give God the honor due Him, attribute to Him alone the blessings we receive and enjoy, the Lord will continue to shake up this nation. He will not allow us to live in our ignorance and stubbornness and do nothing. He is a jealous God. He will show to the Filipinos and the world that He is God and there is no other. So, as I said earlier, the Lord is not done with the Philippines yet for this is what I received from Him.
On Nov. 16, the other day, He gave me a dream of another disaster at the same time that my son also dreamed of double disasters. Without going into the details of the dream, from the house where I was in Pasig, I saw the Pasig River overflowed, the flood waters spilling over to the residential area in Bgy. Guadalupe in Makati. Then I saw two giant whirlpools formed in the middle of the flood waters in the river. At this point, my son woke me up to tell me that he dreamed twice of tornadoes.
Before going to my son's dream, let me just point out that Bgy. Guadalupe hosts the National Shrine of the Lady of Guadalupe. I cannot tell categorically that my dream will be literally fulfilled but to me, the message of the dream is that the Lord will destroy the idols of the nation. As I said earlier, this is not something I love to write about, for I know, as once a devotee of the Virgin Mary, I never liked to hear stories like this. But this is also one of the reasons that the Father gave me this task because I can identify with the sentiments of the Filipinos. I am doing this out of love for my countrymen who are still lost in idolatry.
Going now to my son's two dreams of tornadoes, the first tornado he saw was a big one with smaller ones that looked like tentacles that moved fast towards our house. He saw objects flew outside of the house. Miraculously, the destructive tornadoes just passed us by, our house intact and we were safe. He awoke and went back to sleep and had his second dream. The sky was very dark and as he watched, he saw the clouds swirl fast and formed into a giant tornado. He awoke from this scene and that was then he woke me up from my own dream of the destructive flood.
As my dream of the flood, I don't know if my son's dream of tornadoes will come to pass literally, but I believe that the dreams are warnings of certain disasters yet coming, not necessarily in Bohol, but anywhere else in this country. As in all my dreams of disasters, our house which was not destroyed in his dream when the tornadoes passed means that whatever happens around us, the Lord is able to keep us safe; and all those who are His.
91 He who dwells in the secret place of the Most High
Shall abide under the shadow of the Almighty.
2 I will say of the Lord, "He is my refuge and my fortress;
My God, in Him I will trust."
3 Surely He shall deliver you from the snare of the fowler[a]
And from the perilous pestilence.
4 He shall cover you with His feathers,
And under His wings you shall take refuge;
His truth shall be your shield and buckler.
5 You shall not be afraid of the terror by night,
Nor of the arrow that flies by day,
6 Nor of the pestilence that walks in darkness,
Nor of the destruction that lays waste at noonday.
7 A thousand may fall at your side,
And ten thousand at your right hand;
But it shall not come near you.
8 Only with your eyes shall you look,
And see the reward of the wicked.
9 Because you have made the Lord, who is my refuge,
Even the Most High, your dwelling place,
10 No evil shall befall you,
Nor shall any plague come near your dwelling;
11 For He shall give His angels charge over you,
To keep you in all your ways.
12 In their hands they shall bear you up,
Lest you dash your foot against a stone.
13 You shall tread upon the lion and the cobra,
The young lion and the serpent you shall trample underfoot.
14 "Because he has set his love upon Me, therefore I will deliver him;
I will set him on high, because he has known My name.
15 He shall call upon Me, and I will answer him;
I will be with him in trouble;
I will deliver him and honor him.
16 With long life I will satisfy him,
And show him My salvation."
Give now your life, to the One who is able to keep you in the midst of the storm. Jesus is the only way, the truth and the life. No one goes to the Father except through Him (John 14:6).
Love in Christ Jesus,
Cynthia